As a car owner, it is crucial to understand the standard Car Repairing Service that your vehicle may require over time. By familiarizing yourself with these services, you can better understand your car's needs and make informed decisions regarding maintenance and repairs.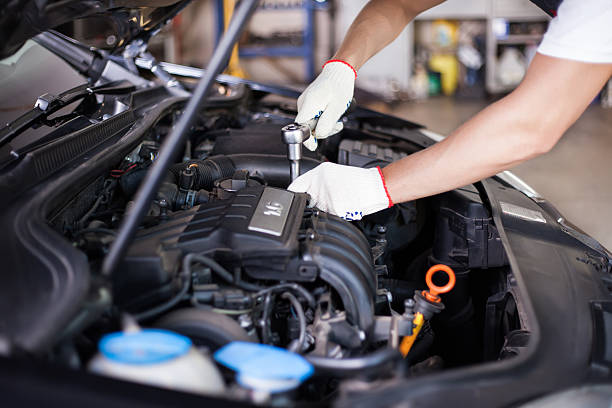 Oil Changes: Regular oil changes are essential for running your engine smoothly. Changing your oil every 5,000 miles or as your car manufacturer advises is recommended.
Brake Services: Your car's brakes are critical to your safety on the road. Standard brake services include replacing brake pads, rotors, and calipers. In addition, it is essential to have your brakes inspected regularly to avoid accidents or costly repairs.
Tire Services: Tire services include tire rotations, balancing, and replacements. Regular upkeep can prolong the life of your tires and ensure that your car handles correctly on the road.
Battery Replacement: Car batteries can wear out over time and may need to be replaced. Signs of a failing battery include difficulty starting your car and dimming headlights.
Transmission Services: The transmission is liable for shifting gears and transmitting energy from the engine to the wheels. Transmission services may include filter replacements, fluid changes, and repairs.
Suspension and Steering Services: Suspension and steering services include repairing or replacing shocks, struts, and steering components. Good suspension and steering can improve handling, comfort, and safety on the road.
Air Conditioning Services: Air conditioning systems must be adequately maintained and repaired. Services may include recharging the system, replacing components, and fixing leaks.
Engine Repairs: Engine repairs may include diagnosing and fixing issues with the engine, such as oil leaks, overheating, or misfiring. These repairs can be costly, but regular maintenance can help prevent significant problems from occurring.
By understanding these standard Car Service Center Dubai, you can take better care of your vehicle and address issues as they arise. In addition, regular maintenance and repairs can extend the life of your car and ensure your safety on the road.
Trust AWA Auto Garage LLC for Car Repair Services In Dubai!
Trust AWA Auto Garage LLC for all your car repair needs in Dubai. Our experienced professionals use state-of-the-art technology and diagnostic tools to ensure your vehicle is repaired to the highest standards. 
We offer a broad spectrum of services, including brake repair, engine repair, and suspension repair. In addition, AWA Auto Garage LLC is committed to providing transparent and affordable pricing with no hidden costs. 
So trust and contact us for Car Repair Services In Dubai to keep your vehicle operating smoothly and safely on the highways of the UAE.